With this model kit a Kässbohrer PistenBully 400 can be built for the Pistenking chassis. Of course also your Graupner (Kyosho) PistenBully or Kyosho Blizzard can be upgraded to a model of the PistenBully 400. The kit is based on original data and allows a scale representation of the original in 1:12.
The cabin is built up of 5 separate parts to accurately model the characteristic shape of the lower part of the cabin. The cabin of the original is built up the same way. Besides an optimal match with the original also a higher stability of the cabin is achieved.
Contents of the Kit
:
Driver Cabin:
6 PVC vacuum formed parts, clear, transparent (as shown below) for 
· drivers cabin (5 parts: sides (2x), front, back, roof)
· air intakes 
· mirror housings (2x)
· fully functional rotating beacons from Pistenking (2x), 
Aluminum parts (laser cut) for
· rear cover and all parts for the platform (with structured surface)
· rear fenders 
Door handles (PU casting) 
2 sheets of self-adhesive stickers: PB400 in silver, warning stickers (in color)
Cockpit:
- center console, seats, steering column as vacuum formed parts (PVC) as shown below
- steering wheel, screen, armrests for the driver seat, joystick as casted parts (PU) and printed parts as shown below
- stickers for instrument panel
The parts are not painted.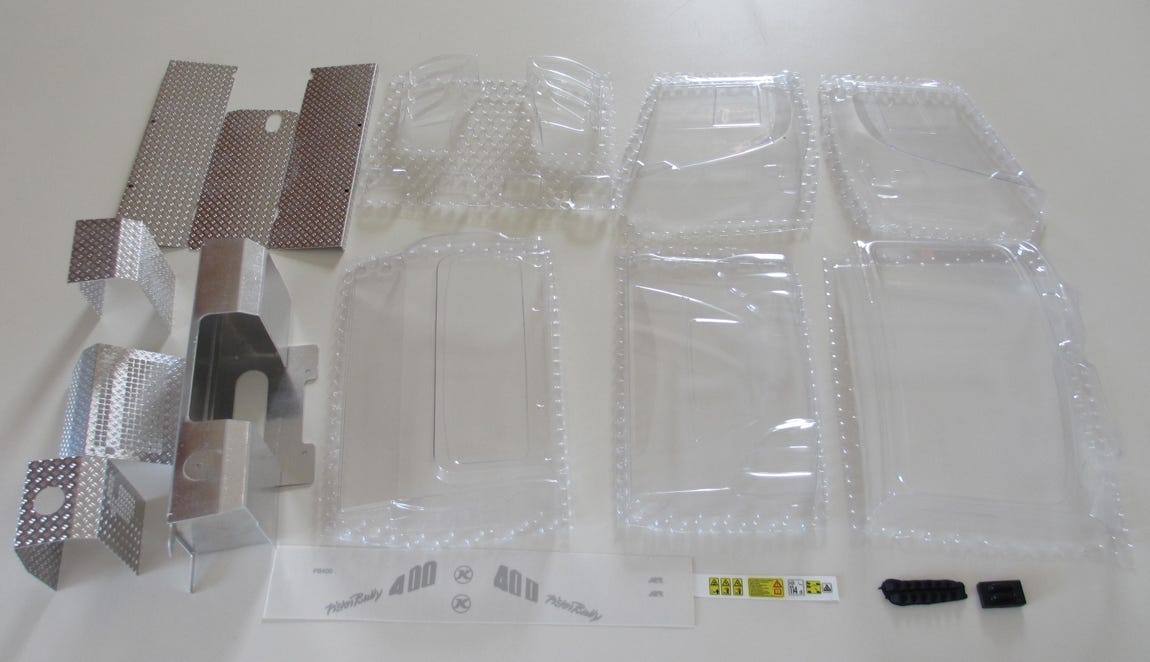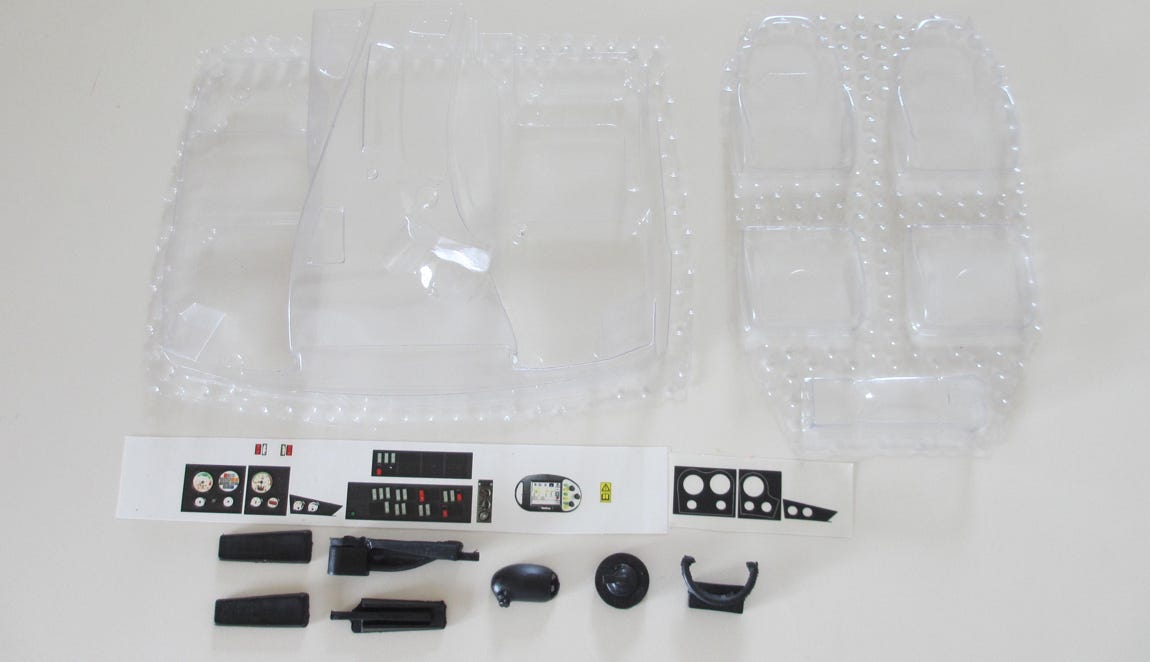 Contents of the kit: body parts
Contents of the kit: cockpit parts
Further Materials Needed for Construction:
These materials are not included, but they are available in every hobby store: 
- modeling ply wood 3mm, for the base plate (not needed for the chassis of Pistenking)
- glue: super glue, Pattex Repair Extreme or similar product, plastic glue
- paint
- sandpaper 600 grain to prepare PVC for painting
- balsa wood, appr. 3- 5 mm thick (small pieces), optionally left-overs from the ply wood may be used
- aluminum rods 3 mm for mirror frames and handles
- brass rod 4 mm and 2 mm for side railings of platform
- optional: LEDs + reflectors and clips for lights
Tasks to be done: cutting, gluing, painting, drilling (see building instructions)
To build the kit basic knowledge and skills in modeling are necessary.